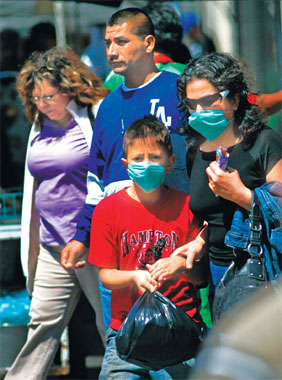 On Monday, April 27, 2009, the official swine flu outbreak death toll in Mexico reached 149, as reported by the Washington Post. As frightened Mexican citizens try to avoid contracting the virus, the nation is practically under a voluntary quarantine. Schools are closed until May 6. Mexican futbol teams play in empty stadiums. Those brave enough to go out in public are encouraged to wear surgical masks.

As public health officials keep a close eye on the outbreak, experts predict that infection rates may escalate and spread north to the U.S. and beyond. Governments are already recommending against any non-essential travel to the U.S. from Europe, as reported by the AP today.

Newswise has created a Breaking News Channel dedicated to Swine Flu and experts on the outbreak.

Among the latest experts available:

Charles Ericsson, M.D., professor of internal medicine and director of Travel Medicine at The University of Texas Medical School at Houston. He answers 20 common questions about what you should know about the swine flu, including what are the symptoms, how long are people contagious, and what treatments are available.

Health and science experts from Temple University. These specialists can comment on a number of areas related to the outbreak, including: understanding the disease, preparedness and prevention of outbreak, and how the virus is spread.

More experts are being added throughout the day. View them at the Breaking News Channel: Swine Flu Epidemic. Other experts on general public health and infectious disease topics can be found at the Newswise Feature Channel: Infectious Diseases.
read the full article...